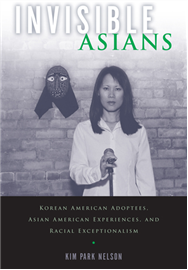 Invisible Asians: Korean American Adoptees, Asian American Experiences, and Racial Exceptionalism. By Kim Park Nelson. Published 2016 by Rutgers University Press in the Asian American Studies Today series.
Invisible Asians draws on the life stories of more than sixty adult Korean adoptees in three locations: Minnesota, home to the largest concentration of Korean adoptees in the United States; the Pacific Northwest, where many of the first Korean adoptees were raised; and Seoul, home to hundreds of adult adoptees who have returned to South Korea to live and work. Their experiences underpin a critical examination of research and policy making about transnational adoption from the 1950s to the present day.
"In this accessible and original work, Kim Park Nelson explores the complexity of historical and contemporary Korean American adoptee identity and experience."
— Catherine Ceniza Choy, author of Global Families: A History of Asian International Adoption in America

"Invisible Asians brilliantly explores how adoptees from Asia have transformed our understandings of race in relation to the Asian (American) diaspora. Park Nelson's fascinating research enables her to take on key questions of representation, economics, and U.S. imperialism."
— Laura Briggs, author of Somebody's Children: The Politics of Transracial and Transnational Adoption
The first Korean adoptees were powerful symbols of American superiority in the Cold War; as Korean adoption continued, adoptees' visibility as Asians faded as they became a geopolitical success story—all-American children in loving white families. In Invisible Asians, Kim Park Nelson analyzes the processes by which Korean American adoptees' have been rendered racially invisible, and how that invisibility facilitates their treatment as exceptional subjects within the context of American race relations and in government policies.
Park Nelson connects the invisibility of Korean adoptees to the ambiguous racial positioning of Asian Americans in American culture, and explores the implications of invisibility for Korean adoptees as they navigate race, culture, and nationality. Raised in white families, they are ideal racial subjects in support of the trope of "colorblindness" as a "cure for racism" in America, and continue to enjoy the most privileged legal status in terms of immigration and naturalization of any immigrant group, built on regulations created specifically to facilitate the transfer of foreign children to American families.
Invisible Asians offers an engaging account that makes an important contribution to our understanding of race in America, and illuminates issues of power and identity in a globalized world.